EMI Filter is a kind of filter with good interference rejection capability .It could be applied to output terminal of inverters and frequency conversion equipment to reduce electro magnetism interference.
Main Features
Wire Current area.
Moderate leakage current.
The filters are suitable for power supplier for industrial installations. Particularly for the output filter used on inverter equipment. Such as inverter speed controlled systems.
Rated Voltage:275/480VAC.
Operating frequency:50/60Hz.
Rated Current:5A-1000A.
Technical Data
1.Rated voltage(VR) 440VAC, 50/60Hz
2.Rated current(IR) 5 ~ 1200A @ 40 °C
3.Test voltage(VP) 2250VDC, 5S(Line to line) 2550VDC, 5S(Line to case)
4.Temperature range (operation and storage) -25 °C /+85 °C (25/085/21 IEC 60068 − 1)
5.Overload capability (thermal) 1.5 x IR 3min/hour 2.5 x IR 30s/hour
Typical Circuit Diagram

Application
1.Inverters and Frequency Converters Applications Elevators, cranes, traction system
2.HVAC systems (heating, ventilation and air conditioning)
3.General three phase motor drive systems
4.Machine tools: printing machine, packaging machine, milling and drilling machine, Textile machine
5.Three-phase power supplies and UPS
Outline& Mounting Dimension(Unit:mm)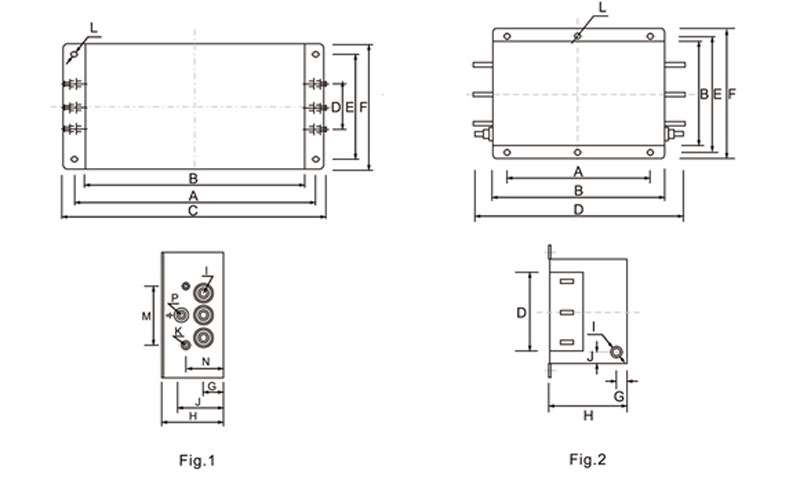 Model
A
B
C
D
E
F
G
H
I
J
K
M
N
P
L
5EBK5
184
160
202
42
60
86
18
58
M4
38
–
–
–
M4
6.4×9.4
10EBK5
16EBK5
25EBK5
243
224
265
58
70
102
25
92
M6
58
M4
74
49
M6
6.4×9.4
35EBK5
50EBK5
65EBK5
80EBK5
354
323
388
66
155
188
90
92
M8
62
M4
86
56
M8
6.4×9.4
100EBK5
130EBK5
160EBK5
200EBK5
Model
A
B
C
D
E
F
G
H
I
J
K
250EBK5
290
210
350
440
234
262
25
160
M12
25
12
320EBK5
400EBK5
600EBK5
800EBK5
290
230
356
536
255
280
25
220
M12
25
13