Product Profile
CHZIRI output AC reactor is mainly used for the smoothing filtering. By reducing the transient voltage dv/dt, it extends the service-life of the electrical machine. This equipment is also applied to reduce the noise of the electrical machine, the eddy-current loss and the leak current caused by the output of the higher harmonic. Moreover, it is also employed to protect the power switching components inside the inverter.
Main Features
Based on different operating frequency, clients can reasonably choose the magnetic materials (such as silicon steel sheet, ferrite, amorphous iron core and magnetic powder core) as the raw material of this product.
The excellent performance of this equipment is due to the foil winding structure, low DC resistance, strong resistance to electromagnetic force and good overload ability in short time. F and above class composite insulating materials are used to ensure the reliable performance of the output AC reactor under harsh working conditions; The advantages of the design includes low magnetic flux density, high linearity and good overload capacity. Moreover, the cooperation of the design and the vacuum pressure impregnation process ensures the low noise of the product.
Solution for Inverter output Terminal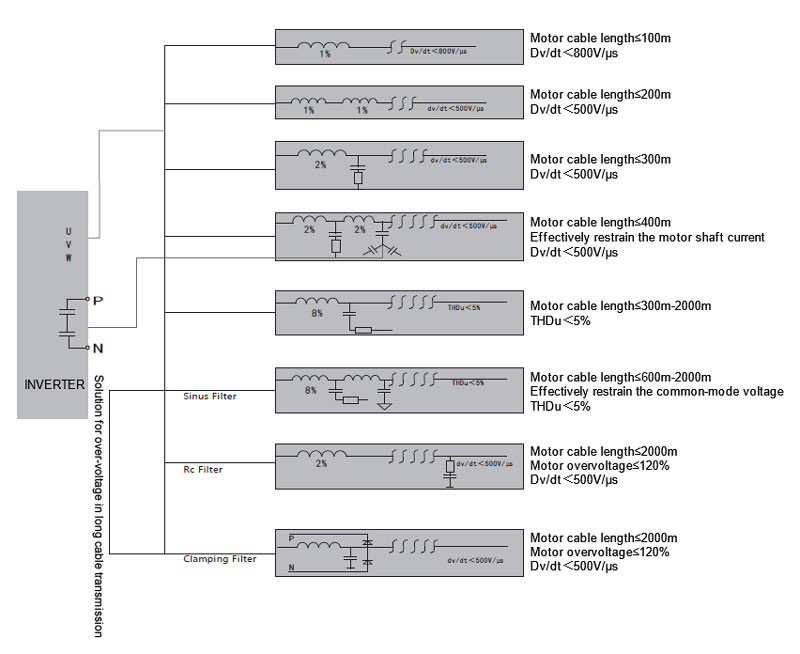 Technical Data:
1.Rated operating Voltage: φ3/380V/50Hz
2.Rated operating current: 5A to 1600A
3.Operating environment temperature:40℃
4.Dielectric strength: Core-wingding 3000VAC/50Hz/5mA/10S
No flashover breakdown(factory test)
5.Insulation Resistance>1000VDC, Insulation resistance value >100MΩ.
6.Noise of the reactor is less than 80dB ( Tested at the point with a horizontal distance of 1 meter away from the reactor).
7.Level of protection:IP00
8.Insulation class: Above F
9.Executive standard of product:GB19212.1-2008,GB19212.21-2007.GB1094.6-2011.
Benefits:
◆ Decrease the noise of motor and the losses of eddy current
◆ Decrease the leakage current caused by high order harmonic
◆ Filter harmonic fluently and reduce transient voltage dv/dt to lengthen the lifetime of motor
◆ Protect the power switch components of inverter
Outline& Mounting Dimension (Unit:mm)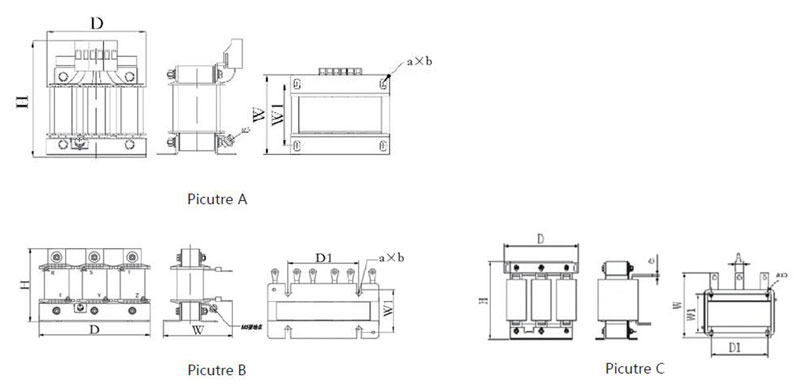 380V output AC reactor selection model
Reactor Type
NO.
Power(kW)
Rated Current
Inductance
Voltage Drop
Insulation Class
Material
Weight (Kg)
Dimension(±0.5mm)
D*H*W
D1*W1
a*b
OCL-0005-EISC-E1M4C
A
1.5
5A
1.4mH
1%
F
Cu
2.4
110*130*84
91*65
6*11
OCL-0007-EISC-E1M0C
2.2
7A
1mH
1%
F
Cu
2.4
110*130*84
91*65
6*11
OCL-0010-EISC-EM70C
3.7
10A
0.7mH
1%
F
Cu
2.4
110*130*84
91*65
6*11
OCL-0015-EISC-EM47C
5.5
15A
0.47mH
1%
F
Cu
3
155*140*84
95*61
6*15
OCL-0020-EISC-EM35C
7.5
20A
0.35mH
1%
F
Cu
3.8
155*140*84
95*61
6*15
OCL-0030-EISCL-EM23C
B
11
30A
0.23mH
1%
F
Cu
4.6
200*130*116
120*72
8.5*20
OCL-0040-EISCL-EM18C
15
40A
0.18mH
1%
F
Cu
4.8
200*130*116
120*72
8.5*20
OCL-0050-EISCL-EM14C
18.5
50A
0.14mH
1%
F
Cu
5
200*130*116
120*72
8.5*20
OCL-0060-EISCL-EM12C
22
60A
0.12mH
1%
F
Cu
5.1
200*130*116
120*72
8.5*20
OCL-0080-EISC-E87UC
30
80A
0.09mH
1%
F
Cu
6
195*165*130
120*72
8.5*20
OCL-0090-EISC-E78UC
37
90A
0.08mH
1%
F
Cu
6
195*165*130
120*72
8.5*20
OCL-0120-EISC-E58UC
45
120A
0.06mH
1%
F
Cu
9
195*165*165
150*88
8*15
OCL-0150-EISH-E47UC
C
55
150A
0.05mH
1%
F
AL
10
195*210*155
120*92
8.5*20
OCL-0200-EISH-E35UC
75
200A
0.04mH
1%
F
AL
12
195*210*165
120*102
8.5*20
OCL-0250-EISH-E28UC
110
250A
0.03mH
1%
F
AL
12
195*210*165
120*102
8.5*20
OCL-0290-EISH-E24UC
132
290A
0.02mH
1%
F
AL
20
255*240*175
182*91
11*18
OCL-0330-EISH-E21UC
160
330A
0.02mH
1%
F
AL
20
255*240*175
182*91
11*18
OCL-0390-EISH-E18UC
185
390A
0.02mH
1%
F
AL
20
255*245*175
182*91
11*18
OCL-0490-EISH-E14UC
220
490A
0.01mH
1%
F
AL
28
300*295*190
214*95
11*18
OCL-0530-EISH-E13UC
250
530A
0.01mH
1%
F
AL
29
300*295*190
214*95
11*18
OCL-0600-EISH-E12UC
280
600A
0.01mH
1%
F
AL
33
300*295*210
214*110
11*18
OCL-0660-EISH-E11UC
300
660A
0.01mH
1%
F
AL
38
300*315*210
214*110
11*18
OCL-0800-EISH-E8U7C
380
800A
0.01mH
1%
F
AL
40
325*350*215
243*112
12*20
OCL-1000-EISH-E7U0C
450
1000A
0.01mH
1%
F
AL
40
325*350*215
243*112
12*20
OCL-1200-EISH-E5U8C
550
1200A
0.01mH
1%
F
AL
56
325*395*235
243*132
12*20
OCL-1600-EISH-E4U3
630
1600A
0.01mH
1%
F
AL
92
395*435*325
275*175
12*20